Monday 14th May
Today I flew out of Stansted airport north of London to Glasgow, on the fabulous Ryan Air which charges $1 for a flight (with $20 in taxes). The price is right, and the service is exactly what youd expect for $21.
Arrived at Prestick airport, about 45 minute train ride from Glasgow. The trains reminded me of the tourist trains you could ride in regional Victoria, only this was their public transit system. After getting into downtown Glasgow, I met up with Chris. Having seen Chris last December in Melbourne for one last surf before he moved to Glasgow, I figured I wouldnt be seeing him for years. We later met up with his amazingly lovely partner Gillian and we headed back to their apartment just out of town in Partick.
Tuesday 15th May
Chris taught me a new term for today, one probably less than p.c. and rather classist, but it just fits so well..."Non-Educated-Delinquent" or NED. NED's are the youth of Glasgow that are the equivalent of the white homeboy's I used to encounter on my trips to the local outer-suburban shopping mall in Melbourne. However, these kids come with more confidence, and the ability to cut you down to size, even though they are half your age. The hairstyle of choice is a short mullet with amazingly complex "channels" ala Vanilla Ice. Anyways moving on...
I walked in to downtown, about 35 minutes walk and visited the CCA school of design, Glasgow School of Art and the Transport Museum. Later I met Chris and Gillian for dinner at a local vegetarian restaurant that was pretty amazing, though in U.S. dollars set me back $40, gah! Later we went to the local pub for quiz night. We managed to come dead last (I blame the Glasweigan accent of the quiz master), but received a prize, and by that stage I was fairly drunk on Tennents, the local beer of choice, most likely brewed in a bathtub nearby
Wednesday 16th May
My English housemate referred to Glasgow as "Grimsgow" and he was right. More light rain and greyness, and its summer! Though the daylight does continue to almost 11pm.
I took the train out to the Unity Center, a small non-profit group who provide legal advice and assistance in stopping families being deported (http://www.unitycentreglasgow.org/). Glasgow contains a large detention center and reporting center for migrants allowed outside of the detention center. Many families and individuals are transported to the detention center beside Heathrow airport (or to the soon to be built Gatwick detention center) so they can be forcefully deported to their country of origin. Scotland likes to use 'dawn raids' to catch families and individuals off guard, so the UNITY center along with self-organized migrant groups take different actions to stop the raids happening.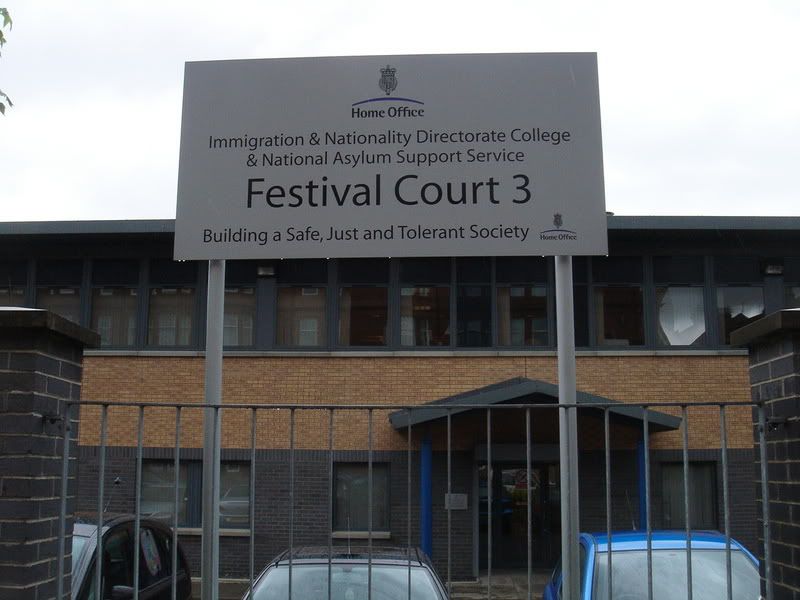 The reporting center for migrants a few blocks from the Unity Centre
Unfortunately I arrived at a bad time. I was greeted by an older guy holding his shoulder in pain. Turns out a person they had been helping to avoid deportation had lost it all together and started attacking the center, breaking the windows and attacking the members inside...not the best time to conduct an interview.
After arriving in Glasgow, I noticed a strange amount of Spanish language signs, and later, a strange amount of piss-drunk Spaniards. Was there something I was missing about a Spanish community in Glasgow? Turns out there is a UEFA cup final being played in Glasgow, but between two Spanish teams...well that explains the drunk Spaniards wearing the Scottish version of those rastafarian hats with fake dreds that you see...only tartan with red hair. In the true-spirit of the event, I joined in on the drinking and cheering for both teams at once later that evening
Speaking of soccer, I also came to realize, that like Ireland, Scotland also has its Catholic and Protestant soccer teams, leading to massive amounts of violence and prejudice. Instead of being greeted by "No Gang Colors" signs in L.A., I was greeted by "No Football Colours" signs at bars across the city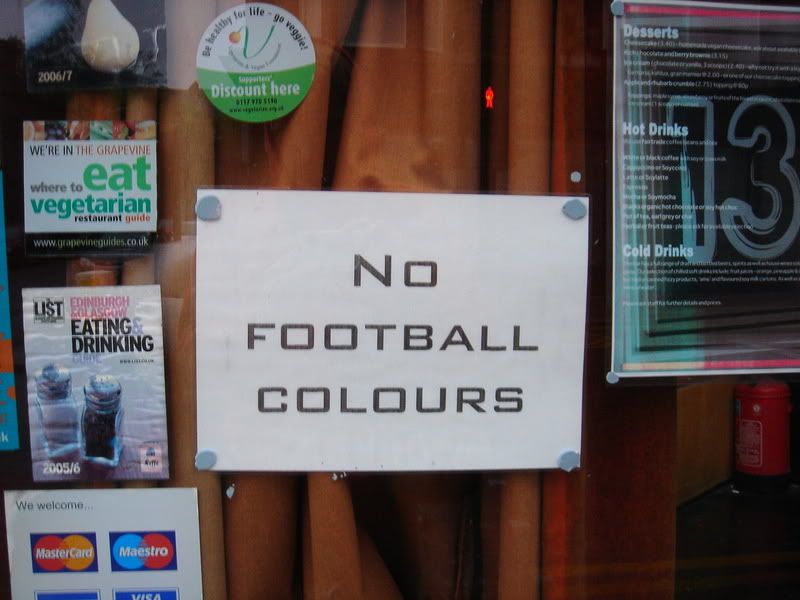 Thursday 17th May
Ok so bringing my shoes with holes in them to the rain capital of the world was a bad idea, I cant take it anymore, time for shoes without holes!
Today I visited the Glasgow Museum of Modern Art and checked out the Merchant City section of downtown Glasgow. Met up with Chris and Gillian at Mono for dinner (http://www.myspace.com/monoglasgow). Mono is definately the best place in Glasgow, a combination vegan restaurant, microbrewery, amazing record store ala synasthesia (r.i.p) in Melbourne, art space/store and live music venue. Ghost (Japanese psych-rock band) happened to be doing soundcheck over dinner which made for an interesting dining experience
After that we headed to the 13th Note bar for a drink (http://www.13thnote.co.uk), and then to a bar/venue called Nice 'n Sleazy (http://www.nicensleazy.com). Gillian had gotten us tickets to see Grizzly Bear, a band from Minnesota who were pretty good, though the highlight was someone passing out from the heat of the tiny venue into the band while playing. That and Newcastle beer in large bottles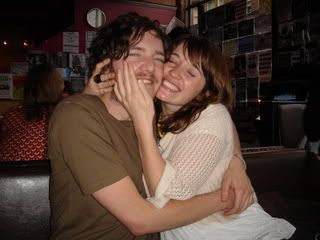 Chris and Gillian at the 13th Note
Friday 18th
Chris and I took the bus to Edinburgh today, about 1.5 hours from Glasgow, and with a summer high of about 14 degrees celcius. One of the stranger aspects of Edinburgh is that its hip shopping/restaurant area seems largely to be located in the historic part of town below the giant castle.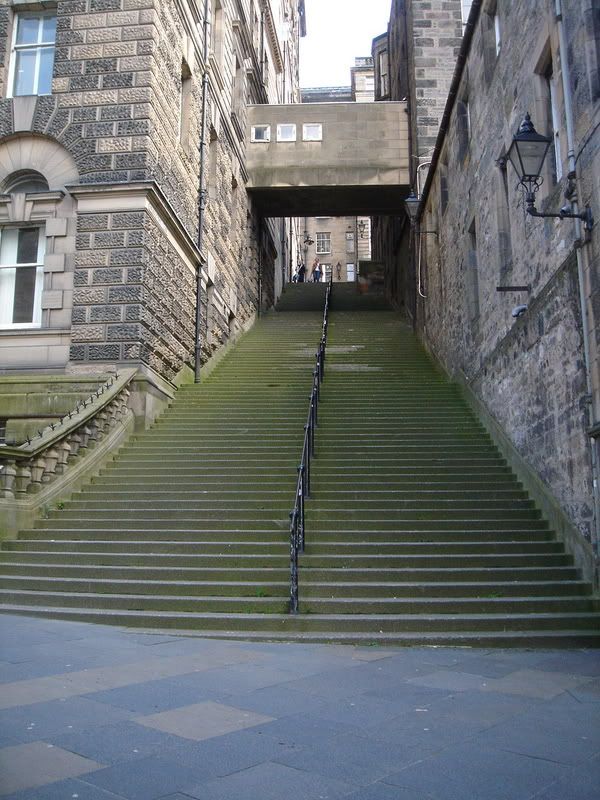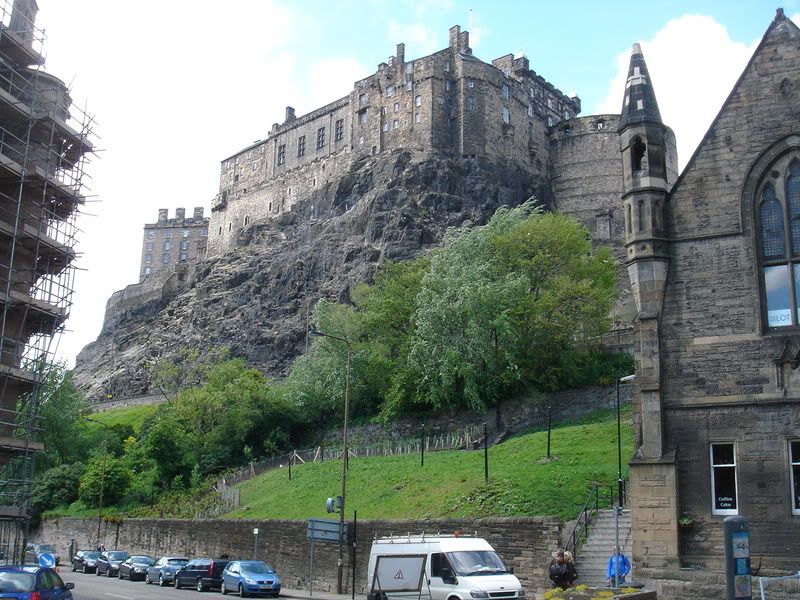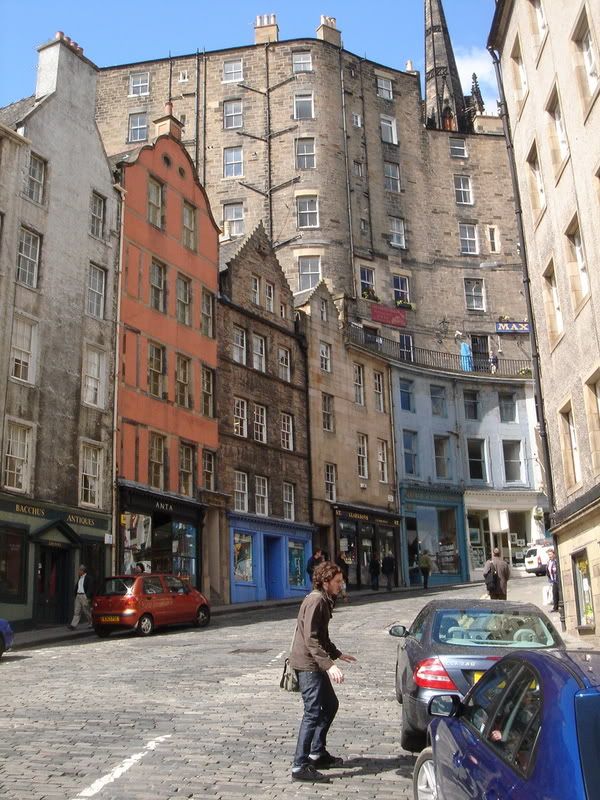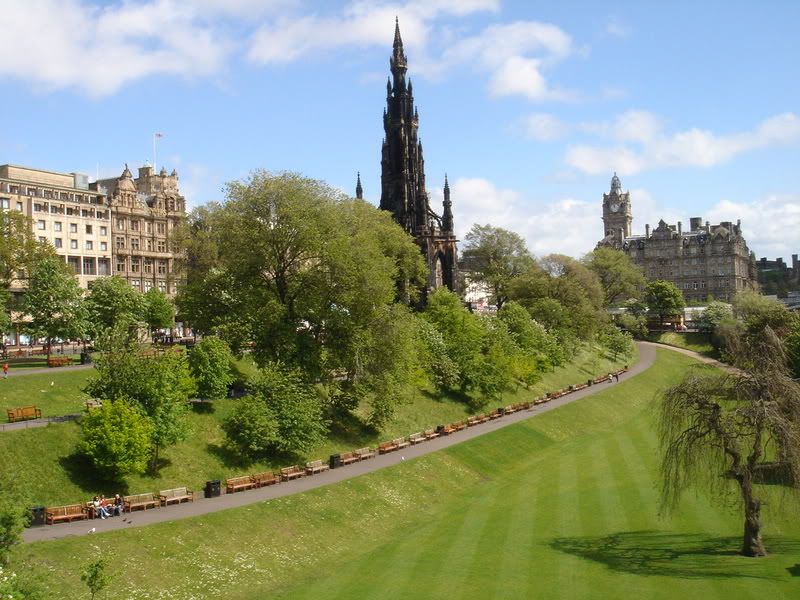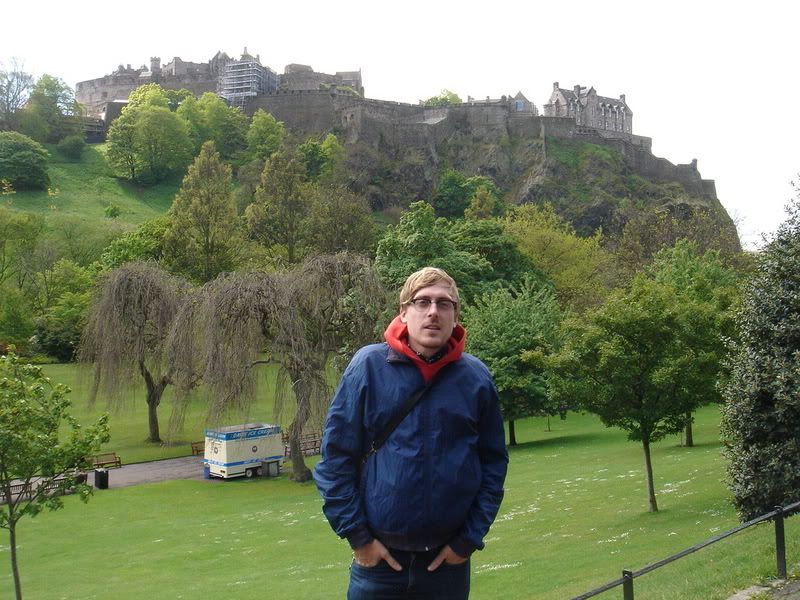 We had lunch at Forest Cafe, a pretty impressive collectively run vegan cafe that comprises an art space, live music, infoshop (though it was closed) and plenty of couches to hang out on (http://www.theforest.org.uk). We also visited the National Museum of Scotland where I met this character...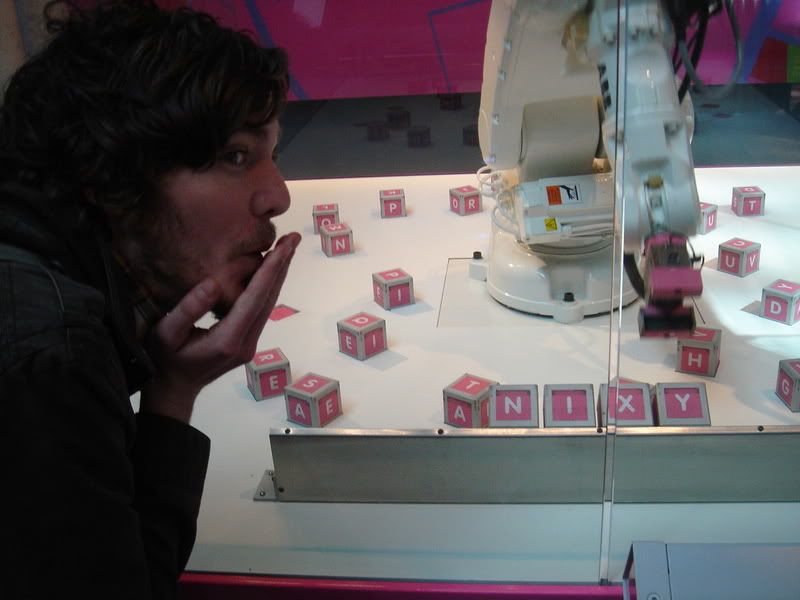 Chris (or Nixy as he is affectionately known) having his name spelt by a robot, they have everything in Edinburgh
After that it was back to Glasgow to drink at the converted Catholic church that is now a bar. This seems to be a common practice in the gentrifying areas of Glasgow and with little complaint from me
Saturday 19th
As part of Gillian's friends birthday, we took a drive out to the William Wallace monument, about an hour north of Glasgow. In true Scottish spirit, it was incredibly cold, windy and raining on and off. Perfect for standing at the top of the largest tower in the country. We had lunch in the nearby town where I was able to sample the delicacy that is vegetarian Haggis. Sure I have no idea what Haggis normally tastes like, but vegetarian style was pretty good.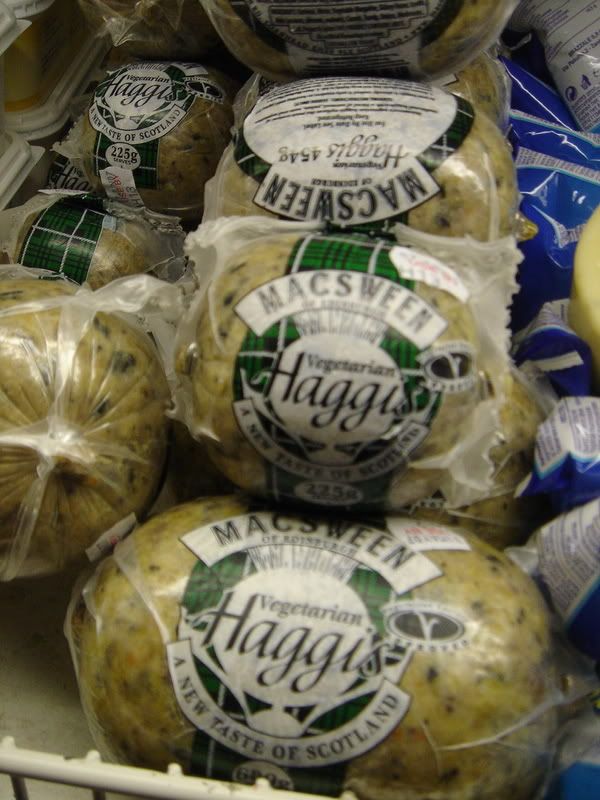 Veggie Haggis at the local organic store
After that it was back to the apartment for a birthday dinner and then on to a bar which I think was called the Dolphin...maybe. Downstairs the bar was packed, but it soon cleared out a lot and someone was djing 60s surf and mod stuff so I was having fun. I realized that there was an additional 3 floors of the bar open that operated as a nightclub after midnight. I also quickly realized that for every floor I went up the music and the people got markedly worse...
Sunday 20th
Today was dedicated to nursing hangovers and having my stitches removed from my head from the accident a week or so ago in London. Thankfully a friend of Gillians mum took the stitches out for me free of charge in a fitting style to end my time in Glasgow
Monday 21st
My last day in Glasgow and I was feeling sad to be leaving Glasgow, but moreso sad to be leaving Chris and Gillian who had been the best hosts and friends ever.
Today I was supposed to be meeting with Paul Routledge, a geographer at the University of Glasgow who is largely active in a number of movements, and consequently writes some pretty amazing stuff. Unfortunately he was not able to make it, but I got to see some of the University, which was partly built in the 1500s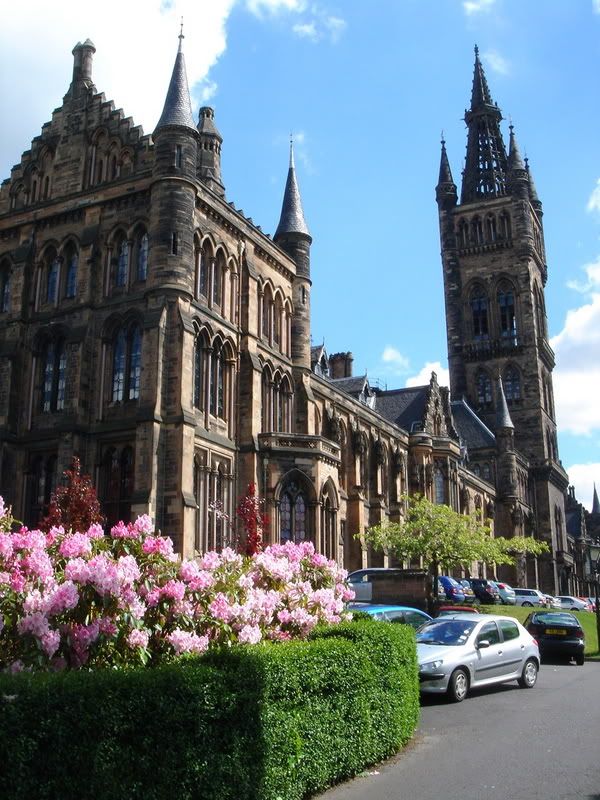 Glasgow University
A few days ago a Scotland-wide design exhibition had opened at various venues, including the Lighthouse in Glasgow, an architectural and design based gallery (http://www.thelighthouse.co.uk/). The exhibition was pretty impressive, though I was more interested in the space itself. There was also a permanent exhibition of Charles Rennie, one of the most important architects in Glasgow, who had designed the Glasgow School of Art that I'd visited a few days previous