On the 8th of May I flew out to London on my way to the G8 protests being held in Heilengendamm in the North of Germany. Part of the emphasis for travelling was to conduct research on the No Borders Network that I am studying for my Ph.D in human geography. The other part was to travel, see friends, and help in the protests at the G8 and to provide general support in working with the No Borders Network (including the upcoming No Borders Camp on the U.S.-Mexico border in November, see www.deletetheborder.org)
Wednesday 9th May
I arrived at Heathrow early on the 9th and proceeded to navigate my way through the London Tube and bus system to Hackney where I was staying with a friend. London had a strange familiarity to it, most likely due to 22 years of watching UK television in Australia. I also suffered a feeling of constant confusion as to where I was. Was I in London, Melbourne, or the U.S.? There was a mix of familiar aspects that continually made me have to think where I was exactly.
Seeing as my friend wasnt home, but had left keys, I dumped my bags and headed to Pogo Cafe (www.pogocafe.org), a worker-owned co-op vegan cafe. Though cheap and good food the realization that the conversion from U.S. dollars to pounds was going to fuck me over for the next 2 weeks whilst in the UK. oh well...Turns out after looking at photos that I was sitting directly opposite another Australian I would meet 3 weeks later in Berlin travelling to the G8, weird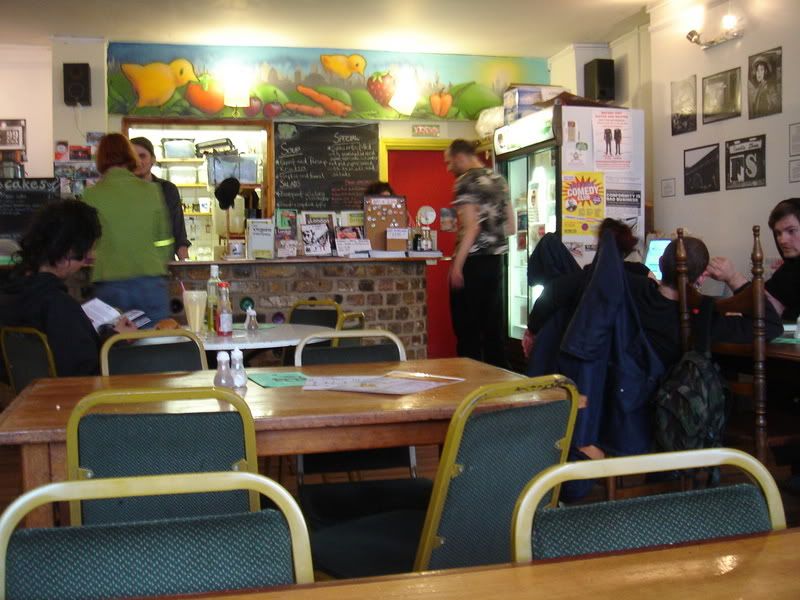 Pogo Cafe and random Australian connection
Later that evening I met with a lecturer from East London University working on radical youth pedagogies and queer studies who had written a small journal article on the No Borders Network, the only person to do so to my knowledge. It was great to meet an academic that still operates on a normal human level, is active/activist, rides a bike, and is actually helpful, its too much of a rarity
Thursday 10th May
Jetlag is a wonderous thing, though something Im usually able to overcome in a day. So I woke up at 4pm, ate at Pogo again, and then headed in to central London to attend the London No Borders bi-monthly meeting. Was great to meet other no borders activists and hear about their upcoming camp at the newly proposed Gatwick Airport detention center, and to spread the word about our camp in November. Also nice to feel I was able to justify this trip as being for 'research'...Somehow I managed to get lost on the way back and take the wrong bus after waiting for one that was never coming. The initial enjoyment of being forced to explore new parts of the city was quickly overcome when it began to rain, and my excellent choice of wearing my hole-filled shoes began to fill with water. 4 hours later I found my way home
Friday 11th May
Here's one I wont forget...well what I remember of it. Met up with an old high school friend now living in London for lunch, and 10 minutes later found myself bleeding heavily from the head after a rogue piece of scaffold bracketing fell from the 3rd floor and split my head open. Initially thinking I would be ok, I quickly realized that the blood coming out was rather substantial and I was beginning to feel light-headed. Thankfully people called an ambulance and the next thing I know I'm in a London hospital being stitched up (though for some reason they deemed it necessary to take my pants off?). More thankfully, UK healthcare is free, so after initially fighting off the ambulance ride, I accepted it greatfully. My friend from Australia was kind enough to sit around for 6 hours at the hospital, and so we were able to catch up in a dazed "my head really hurts" kind of way. At 9pm I staggered back to the bus, hair still caked with blood and proceeded to scare small children on the way home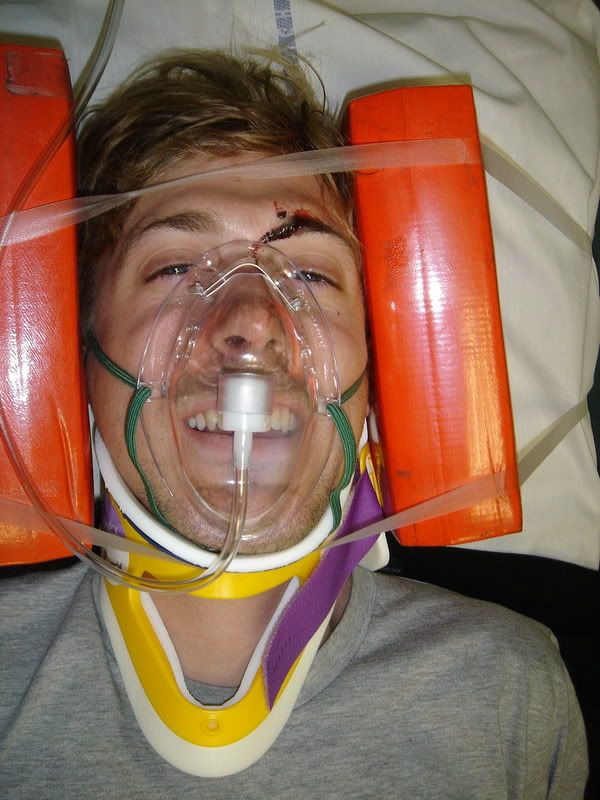 Fun times in the hospital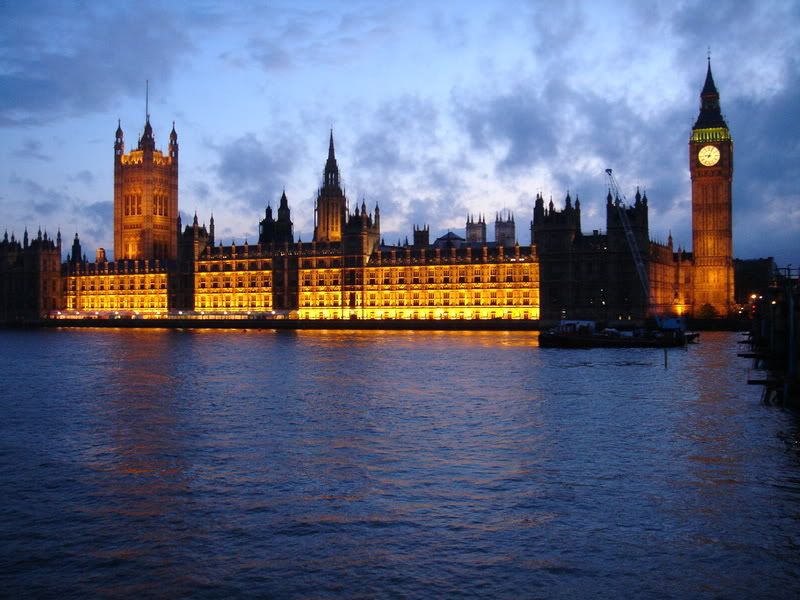 The view that greeted me as soon as I walked out of the hospital
Saturday 12th May
Woke up to the surprise that I didnt have an incredibly bad migraine after being struck down from above, and so headed to the Hackney Markets with Jess and Corrie. We ate at a traditional 'greasy spoon' cafe, and it was every bit what I expected. In a moment of sheer English-ness, the cooks proceeded to sit down beside our table and have a smoke break. Were this to happen in L.A. people would be setting the cafe on fire in disgust.
From there I took the bus to check out a previously squatted building that contained the 56A Bookstore. Often radical bookstores provide nothing but dissapointment, but this one was different. In it contained an anarchist archive that provided useful for my research amongst a good collection of books and other materials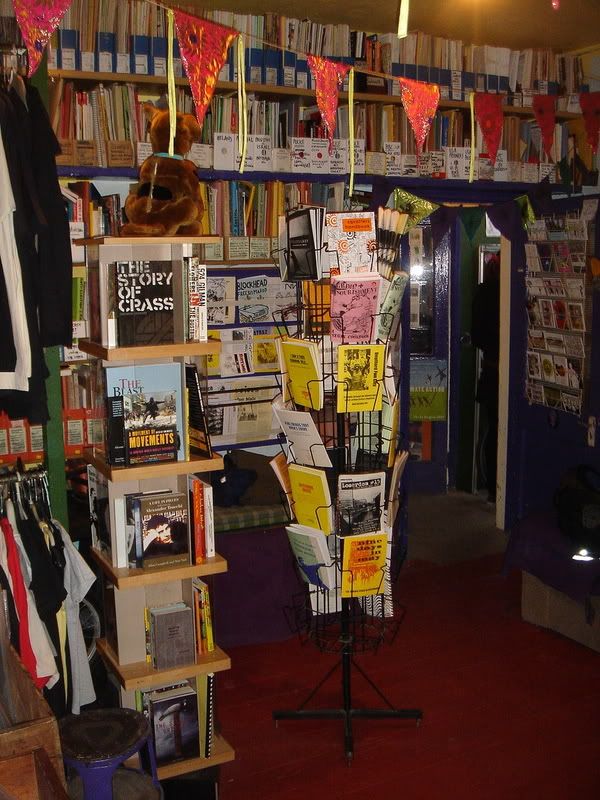 The 56A radical bookstore/infopoint
Later on I went to a show with Jess, a band from Canada played that sounded exactly like Red Light Sting, which I guess was ok as I never got to see them play...
Sunday 13th May
I attempted to visit the London Action Resource Center (LARC) today, situated in an older Bengali community but it wasn't open as promised. Instead I was greeted by women in medical garb running out of the door screaming something, dissapearing around the corner, then returning, screaming more. I tried to ask why the center wasnt open, and why they were running around in masks screaming covered in fake blood, but it didnt really matter at that stage. The center houses the Detainee Alliance group who I was hoping to speak to, as they are a branch of the No Borders group in London, who visit and provide legal advice to migrants detained in one of the many detention centers in the UK
An apparently short walk from LARC to the Tate Modern Gallery turned out to be about 2 hours longer than expected, but I did get to do the tourist deal and walk along the Thames, past the Tower Bridge and castles and other British things. The Tate I thought was rather dissapointing, but it was free and that was good given the exchange rate that was currently making money dissapear from my already drained bank account
Back at Jess and Corries I was introduced to the delights of "Peep Show" quite possibly the best English comedy since Black Books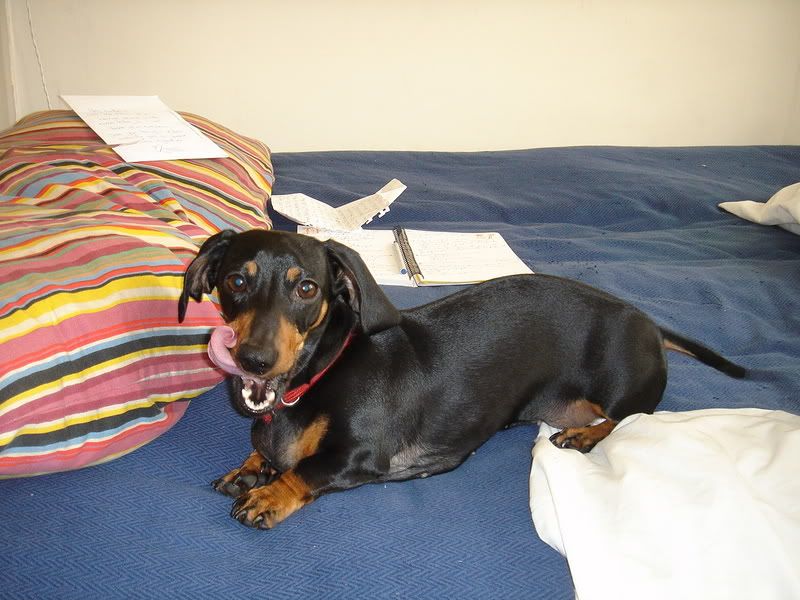 My friends dog Sally who provided extra warmth on the fold out couch. I would have kidnapped Sally to take home were it possible